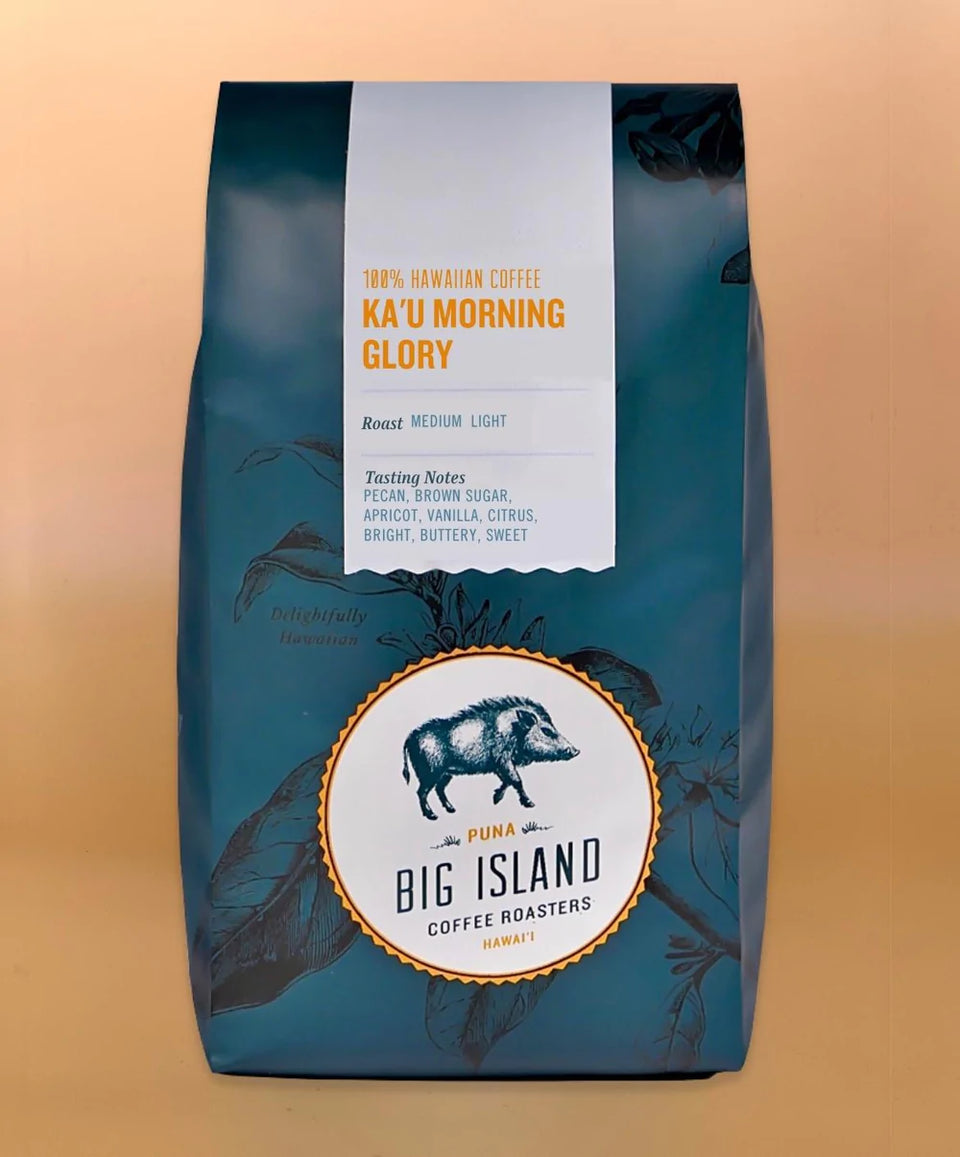 Ka'u Morning Glory - 100% Kona / whole bean 7 oz.
Origin: Ka'u coffee | Yellow honey processed | Typica variety
Roast: Medium-light
Tasting Notes: Pecan, caramel, cinnamon and spruce with juicy elements of orange and vanilla; yellow honey processed, bright and sweet
SMOOTH, SWEET, HONEYED KA'U COFFEE
Our honey processed Ka'u Morning Glory is our bright and sweet signature Ka'u coffee. It's notable for long and juicy fruit tones, a medium-full body and a sweet candied nut finish.
Despite the reference to honey, no apiary products were used in the making of this beautiful coffee. Like "natural" or "washed," "honey" is a coffee processing method; the important step of separating the outer layer of a coffee cherry from the inner seed or "bean." When the skin is removed, sticky, sweet mucilage is exposed and its golden amber color is reminiscent of honey. Hence we call it honey processed coffee.

Delightful for espresso or pour over, our yellow honeyed Ka'u coffees are rich yet mellow, never bitter or acidic. The flavor notes are often similar to real honey: floral, sweet, buttery and smooth with an ever-so-slight hint of fruit and blossoms. Often you'll catch the aroma of vanilla, nougat or honey, regardless of the roast level.
Ka'u Morning Glory is produced by a one-of-kind coffee farmer who lives and breathes coffee. He has the kind of passion and knowledge for farming that he can talk for 3 hours straight about plant health, N-P-K ratios, coffee varieties, and the organic nitrogen-fixing properties of perennial peanut on coffee. John is exactly the kind of coffee farmer we love to work with.
7 ounce package / whole bean