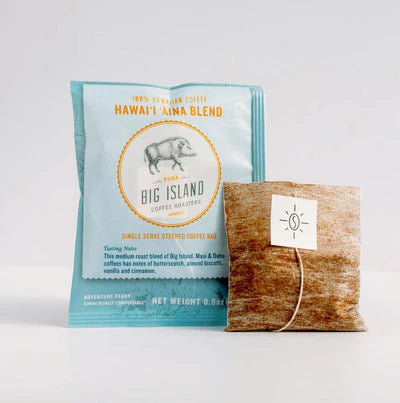 Hawaii Aina - single serve coffee 5 pack
Medium roast grown in Puna on the Big Island of Hawaii from Big Island Coffee Roaters - package contains 5 servings of coffee in steeping  bags.
We use steeped single-serve coffee bags of our 100% Hawaiian coffee to make brewing a delicious cup easier than ever. To prepare your Steeped single-serve coffee, just add the bags to hot water and steep for several minutes.
With single-serve coffee bags, you don't need complex brewing equipment to prepare a delicious cup of 100% Kona coffee. All you need to do is add hot water.
What's more, these are:
♻ Fully compostable
✓ Nitro-sealed
🏖️ Travel-ready
💯  Kona & Hawaii-grown
Make stale hotel coffee a thing of the past!
Tasting Notes:
Hawaii Aina (medium roast): butterscotch, almond biscotti, vanilla, and cinnamon
Directions:
Hot coffee: place the sachet in a cup, add 10 to 12oz of hot water, and steep for 5 minutes. Enjoy!