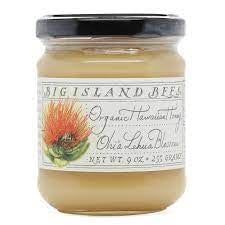 Big Island Bees Honey - Ohi'a Lehua Blossom
Our most popular Hawaiian honey, Ohia Lehua honey has a delicate, distinct flavor and spreadable texture. Found only in Hawaii, the Lehua blossom produces a white, smoothly crystallized honey. Perfect for sweetening beverages, cooking or simply scooping directly out of the jar. A favorite of tea drinkers because it doesn't overwhelm the taste of the tea.
Our Lehua honey is certified organic. We produce all our honey on the Big Island of Hawaii without chemicals, artificial feeds, miticides, heat, or filtration.
Glass jar is 9 ounces.