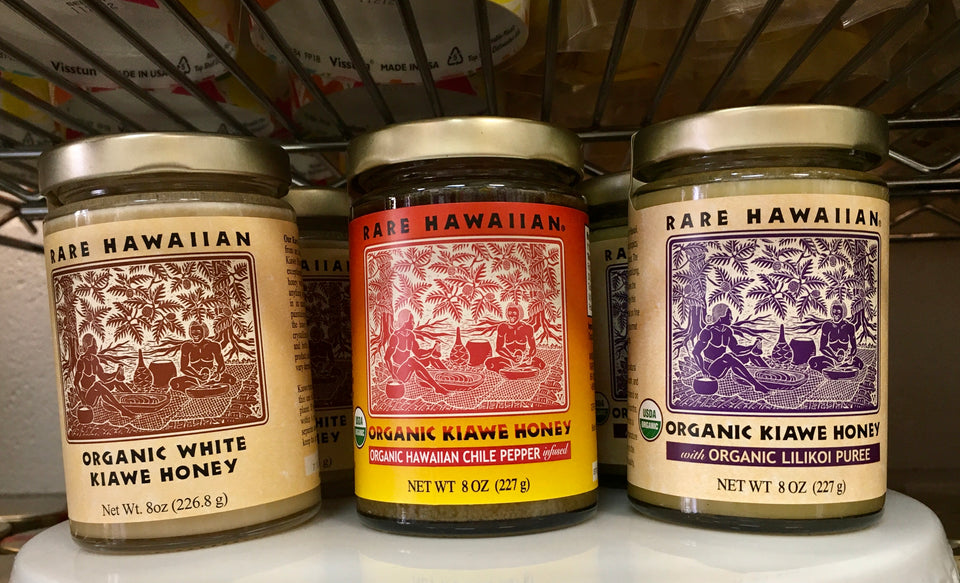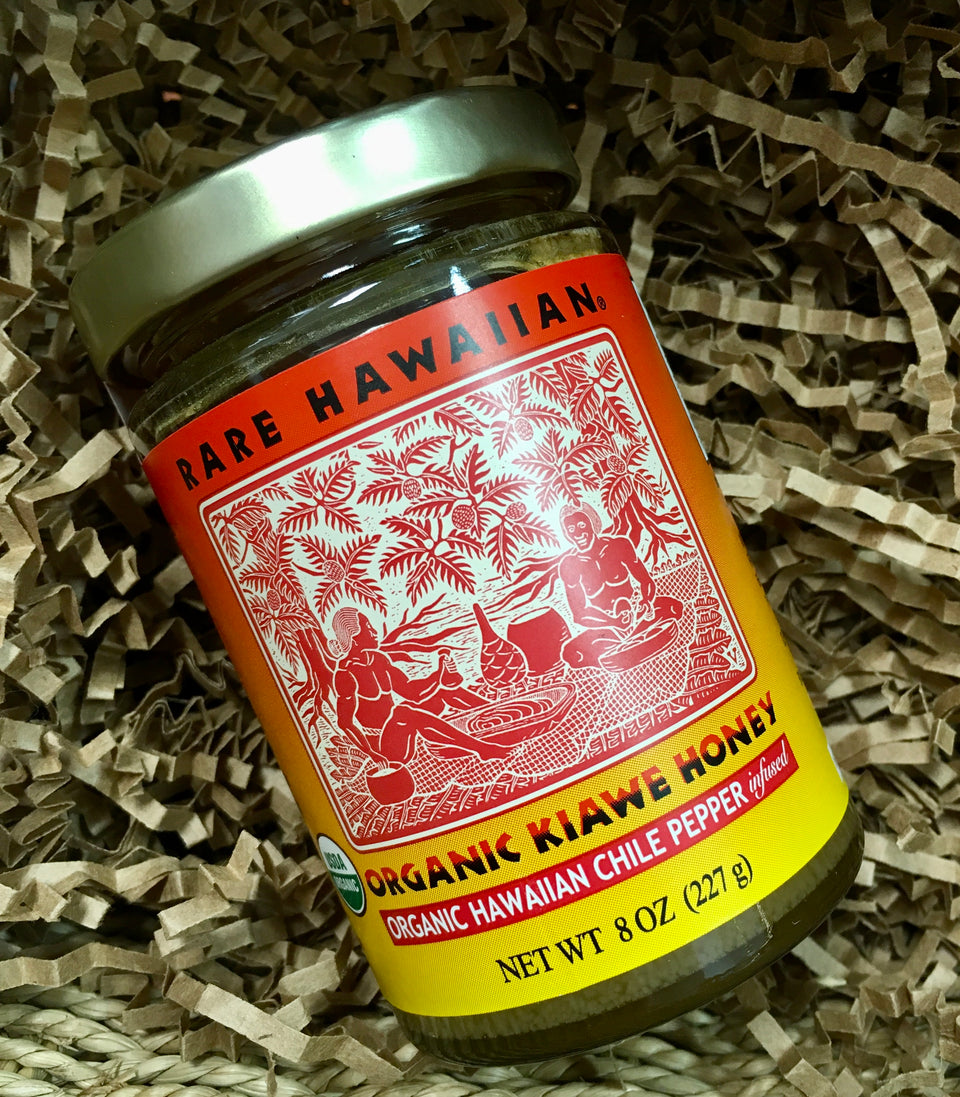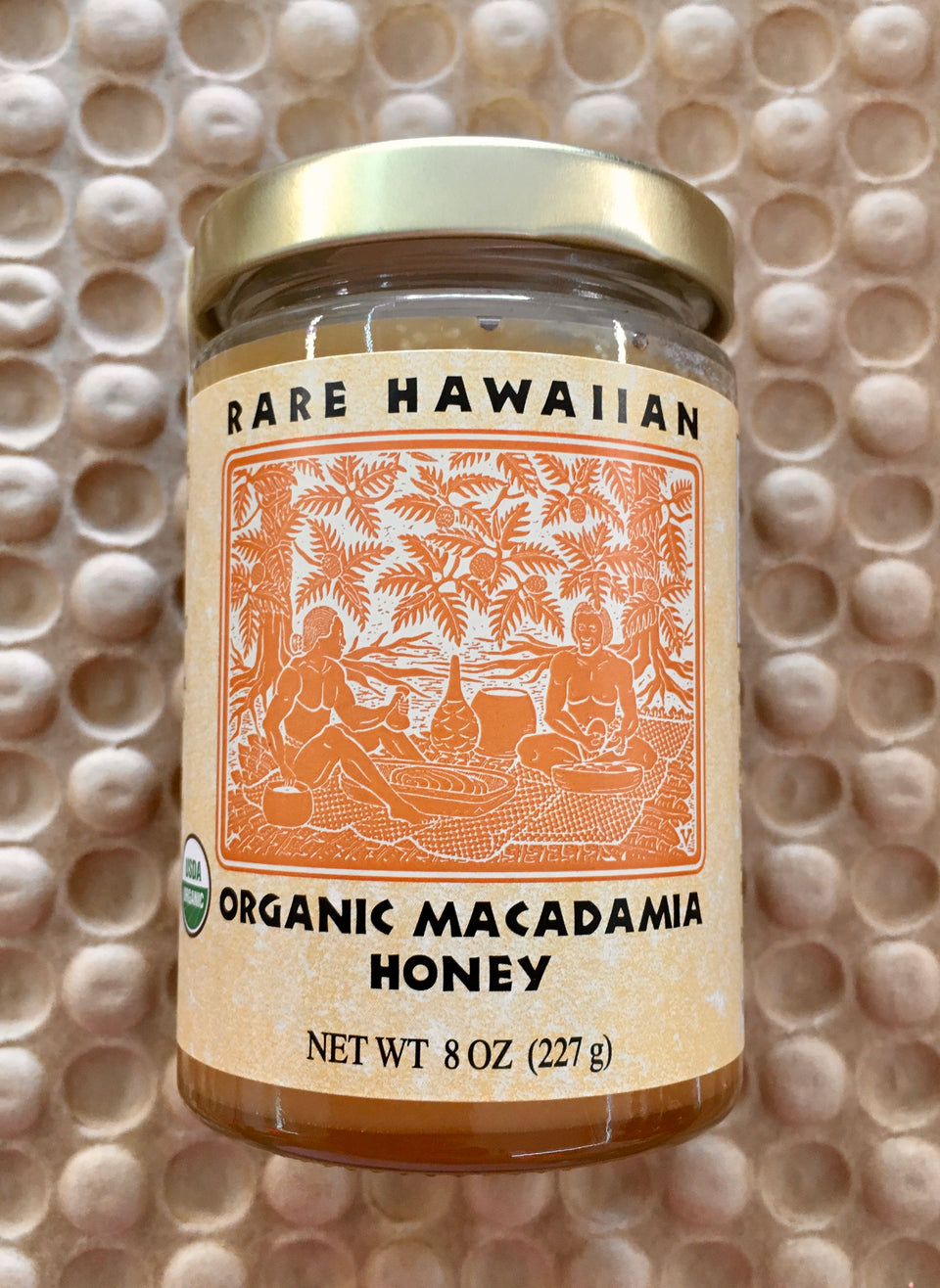 Organic Rare Hawaiian Honey
From Volcano Honey Company - Organic. Rare. Amazing Sweetness.
From the isolated forest on the island of Hawai'i (Big Island) all jars are 8 ounces.
Choose from:
White Kiawe Honey -  Rare, certified organic Kiawe Honey is gathered from an isolated Kiawe forest on the island of Hawaii. Pure Kiawe Honey rapidly and naturally crystallizes into an exceptionally creamy texture, creating a pearly white honey with a unique, delicate tropical flavor unlike anything you have ever tasted.
KIawe Honey with Chili Pepper - If you like some spice in your life, you're going to love Hawaiian Hot Honey! Made with certified Organic White Kiawe Honey, and infused with a unique cultivar of Capsicum frutescens, the Hawaiian Chile Pepper, this honey is conveniently "pourable" for ease of use.  Up to 100x hotter than a Habanero, Hawaiian Chile Peppers are sweet, salty, and savory, with an intense level of spice that lingers on the palate. Chile Infused Honey is now an established favorite condiment for pizza, but you can also drizzle it on roasted vegetables, add it to marinades, drizzle it over fried fish, calamari or chicken, whisk it into dressings, pair it with cheese, or use it as a sauce for fruit desserts.
Kiawe Honey with Lilikoi Purée - By infusing with Lilikoi, also known as Passion Fruit, this has created the quintessential flavor of the tropics. One taste from this jar and your palate will transport you to a wide sandy beach, turquoise water and the dappling shade of coconut palms. This honey is a unique combination of rare, certified organic Kiawe (white) honey and Lilikoi puree. Enjoy this honey as an appetizer when spread on fine cheeses and cured meats.
Organic Macadamia Honey is made almost exclusively from the fragrant, white flowers of the macadamia nut tree. This unique honey blend has a robust macadamia nut flavor (think warm caramel with a tropical tang), in a beautiful dark amber liquid that has crystallized into a smooth, creamy texture. The macadamia honey is harvested from a certified organic macadamia nut orchard in North Kohala on the Big Island of Hawaii.
Calamansi Cream Honey  Calamansi is a variety of citrus that is very popular in the tropical Pacific Islands. Unlike the sweet tangerine that it resembles, the Calamansi has a deliciously sour taste that is widely used to flavor food in the region. By infusing the juice from this flavor powerhouse with our delicate, white, Organic Kiawe Honey, we have achieved the world's first gourmet Dessert Honey! The palate's first impression is a childhood memory of the Creamsicle®…creamy sweet tangerine-like flavor. Pair this honey with your favorite gourmet chocolate and a fine Port wine, or stir it into your tea for an instant citrus infused hot drink.